Alexander Haas in the News
The Alexander Haas Partners are noted experts in the nonprofit field and are often called up by the national and local Georgia press when these publications are researching and writing on issues that impact the nonprofit field. Here are recent examples of our expert Partners in the news.
---
Blackbaud to Announce Partnership with Leading Fundraising Firm
News Blaze
Published: May 18, 2011
Blackbaud is also announcing its intent to form a new partnership with one of the country's top arts and cultural fundraising/consulting firms, Alexander Haas, headquartered in Atlanta. Through this partnership, Blackbaud will market fundraising best practices recommendations from Alexander Haas as a companion offering to Blackbaud's Altru software. Dashboards of key metrics will be configured within Altru to track fundraising progress. Other services Altru customers will receive from Alexander Haas through this partnership include: assessment of current processes and procedures, examination of selected materials and reports to assess trends, recordkeeping, and an annual re-assessment to gauge progress and look for additional enhancements.
"We're excited to combine Alexander Haas' unsurpassed arts and cultural fundraising expertise, best practices in constituent relations, and fundraising assessment with our comprehensive technology suite for arts and cultural organizations," said Jay Odell, Blackbaud's vice president and general manager of Altru.
---
Alexander Haas Partner selected as Visual Arts Judge
Clayton Bass, a Partner with Alexander Haas since January 2011, has been selected the visual arts judge for the Mississippi Institute of Arts and Letters Awards (MIAL) for 2011. First presented in 1980, the prestigious MIAL awards recognize Mississippi's finest achievements in seven categories: fiction, non-fiction, visual art, musical composition (concert), musical composition (popular), photography and poetry.
Mr. Bass is the former director of the Walter Anderson Museum of Art in Ocen Springs, Mississippi and recently led the Huntsville Museum of Art through its successful fundraising campaign and 21,000 square-foot facility expansion. The MIAL Awards Gala will be held in June 2011 at the Walter Anderson Museum of Art.
---
Alexander Haas Partner to serve on American Craft Council Board
Anyone who knows Jim Hackney,Managing Partner at Alexander Haas, knows of his passion for American craft, in particular the famous and not-so-famous potters of his native North Carolina. An avid collector of pottery, Jim has turned this personal passion into service with many of the regions museums and visual arts organizations that collect, display, and engage the public in pottery, craft, and design.
Most recently his expertise was acknowledged by the American Craft Council (ACC) which at its fall meeting elected Jim to serve on the Board of Trustees. This is a wonderful honor and one that makes all of us proud in good measure because Jim previously served as strategic planning and fundraising counsel for the ACC.
The American Craft Council is a national, nonprofit educational organization founded in 1943 by Aileen Osborn Webb. The mission of the Council is to promote understanding and appreciation of contemporary American craft. The Council is today the leading voice for the crafts in America, celebrating the remarkable achievement of the many gifted artists working in the media of clay, fiber, glass, metal, wood and other materials.
In its October newsletter, News & Views, The American Craft Council announced the incoming members of the Board of Trustees. In addition to Jim, they include Damian Velasquest, Albuquerque, NM — furniture designer and maker, owner of Damian Velasques Modern Handcrafted Furniture; and Namita Gupta Wiggers, Portland, OR, Curator, Museum of Contemporary Craft in partnership with Northwest College of Art — author, essayist, artist and jewelry designer.
Congratulations to all!
---
Congratulations Jerry!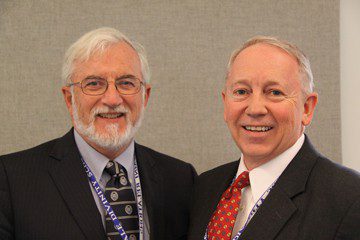 Harold W. Attridge and Jerry W. Henry
Harold W. Attridge, Dean of Yale Divinity School, congratulates Alexander Haas Partner Jerry W. Henry (M.Div. '80) upon being elected President of the Yale Divinity School Alumni Board of Directors at the annual meeting of the Alumni Association on Tuesday, October 12, 2010.
---
College Fundraising: Is There a "New Normal"?
By David Bass
Association of Governing Boards of Universities and Colleges
November/December 2009 | Number 6, Volume 17
David King, president and CEO of Alexander Haas, which provides fundraising counsel to colleges, universities and other nonprofits, suggested that donors may have more fundamental doubts about endowment: "One thing we're hearing in conversations with donors is real questioning about endowment policies and endowment in general. I think a strong case was made over the past 10 or 15 years that endowment was a source of stability for institutions—that it provided a stable source of income that we could count on even if fundraising and admissions were up and down. Well, that hypothesis has now been proven incorrect. We are seeing donors who say, 'You had an endowment, you lost half of it. I'm not sure I want to put my money in there now.' "
click here to read the article
---
For $53 Million, Houston Ballerinas Won't Dance Around Buckets
By Katarzyna Klimasinska
Nov. 10 (Bloomberg)
The company has started raising an additional $45 million for the endowment, said Jim Hackney, managing partner at Alexander Haas, an Atlanta-based fundraising consultancy hired by the ballet.
click here to read the article
---
Amid the gloomy economy, expressions of hope
By Gustav Spohn
Director of Communications and Publications
Jerry Henry '80 M.Div., chair of the YDS Alumni Board's Development Committee, began the Convocation and Reunions breakfast conversation on the economy by asking an interesting question with an even more interesting answer.
Question: Why don't American Christians give away more money?
Answer: They are not asked!
That was the dramatic opening of a presentation Henrydelivered to a small but engaged audience of alumni in Niebuhr Hall who had gathered Oct. 13 to take up the topic "The Impact of the Economy on Churches, Schools, Social Service Organizations, Families, and Selves."