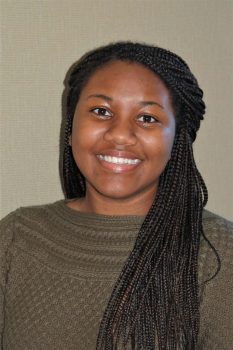 Channa Childs — Project Coordinator
---
Channa is a graduate of Kenyon College in Gambier, Ohio and holds a Bachelor's degree in Political Science and a concentration in Environmental Studies. Her undergraduate studies focused on the environmental politics of how organizations and institutions can enable success in marginalized communities. Channa's passion for the political empowerment of individuals and organizations is evidenced in her undergraduate studies of American Democracy and Environmental World Politics. She is excited to support inspired nonprofit organizations as they make the world a better place.
Throughout college, Channa supported her college's admissions efforts as Head Tour Guide and ensured community members were able to access the full depth of resources as a Research and Reference Intern at Kenyon's library. She was also actively involved in campus affinity organizations that worked to better integrate students of color into the campus and local communities.
Channa previously worked as the Clean Energy Fellow at an environmental nonprofit coordinating campaign logistics, building coalition, and cultivating local leaders. As a member of the Alexander Haas team, she is excited to expand her orbit and enable more groups to accomplish their goals.
Channa is also a proud native of Little Rock, AR and graduate of the historic Little Rock Central High School, the site of desegregation in 1957.
As a newly minted Georgian, Channa enjoys exploring Atlanta's restaurants and green spaces in her spare time. She also loves spending time with her family and friends, follows politics quite avidly, and loves podcasts.