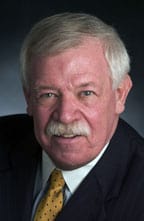 David T. Shufflebarger — Managing Partner
Talk with Shuff for a few minutes and it is likely that you will learn four things:
He is passionate about philanthropy.
He considers himself fortunate to be married to Patti, his bride of 49 years.
He is more than a little proud of their two sons and seven grandchildren.
He is a not so humble Virginian.
As a volunteer, Shuff has chaired a YMCA board, served as President of a Boy Scout Council, been a member of the boards of the Atlanta Diocese's Episcopal Charities Foundation and the Georgia Planned Giving Council, and received the YMCA's Red Triangle Award and the Scouts' Silver Beaver and President's awards recognizing his leadership.
He is presently serving on the Board of Trustees and as Treasurer of CREATOrS, whose first project is a stage work on the movement that overthrew the dictatorship in Malawi.
Shuff is in his 24th year at Alexander Haas after serving 25 years in advancement roles at VMI, Old Dominion University, and Valdosta State University. He has guided 15 successful campaigns which have raised more than $2 billion. Shuff obtained his CFRE (Certified Fund Raising Executive) in 1987.
"I love this job," he says, "because I learn something new every day and I get to work with some really great people." Because of his earlier career, a big part of his heart is in public universities and he is proud of his role counseling successful campaigns at the University of Tennessee and the University of Central Florida. "Frankly, however, I think I learned more from the campaigns we did with Wesleyan College, The University of Tampa, Florida Southern College, and Mary Baldwin College. They were easy to get your arms around and I came to understand the power of the devotion their alums have for them." "I was fortunate to start at Alexander Haas with three challenging campaigns that really taught me the basics – Sheltering Arms here in Atlanta, Hubbard House in Jacksonville, and Birmingham's Girl Scout Council."
Shuff is one of the authors of the award-winning book on university foundations published in 1997 by the Association of Governing Boards of Universities and Colleges. He was one of 26 senior professionals chosen to provide counsel to select Ford Foundation grant recipients. He holds an undergraduate degree from W&L and a master's degree from the College of William & Mary.