How do you know what criteria you need to consider when selecting counsel?  One of the best ways is to ask the experts! That is, those in leadership positions who make the decision to hire fundraising counsel everyday. Alexander Haas did just that in putting together our Guide to Selecting Fundraising Counsel.
Several emphasized the importance of meeting the consultant who is actually going to do the work at the sales presentation.  
Phil Mazzara, President of Providence Health Foundation in Washington, D.C. commented, "I never hire firms where the 'presentation sale' is done by someone other than the person(s) actually doing the work.  My assumption always is that firms responding to an RFP are professional."
Access to senior consultants throughout the engagement is another principle that weighs significantly when selecting counsel.
Experience in the community and references from organizations known to the client are two important factors.
Denise Deisler, Executive Director of the Jacksonville Humane Society.  In her words, "Counsel's experience, especially in our community with other reputable organizations, was a critical factor for us. References from the same were a valuable part of our decision-making."
Counsel's personal skills and characteristics are important elements according to Debra Orr, President of Notre Dame Academy.  She referenced, "…the ability to listen and be open to discord.  No two institutions are alike and each one has its own differences.  Understanding these differences is important to getting good advice.  Out of discord some of the best action plans are formed."
Justin DeMoss, former Major Gifts Officer with EWTN, added, "They must have the right personality and team building skills to infuse the non-profits' culture with the necessary legal understandings that may have an influence on the non-profit and its operations."
Not surprisingly, every individual mentioned alignment with the mission of the organization as the most important criterion.
Josh Newton, President and CEO of the UCONN Foundation, said that he and his team look for a track record and experience with similar institutions.  He also cited a "match in philosophy and approach to work" and "less so, but certainly a factor—costs."
Lisa Moore, Vice President for Advancement at Saint Mary's College in California agreed with selecting counsel with "experience and demonstrated success in universities similar to my institution in size, resources, staffing, etc."  She also cited counsel's preparation prior to the sales' call as a factor.  "It was essential that Counsel conducted thorough research on my campus and program to create a personalized and unique presentation that provided understanding of campus culture." 
Denise Deisler said, "That Alexander Haas had experience in our particular sector of nonprofits put them over the top."
Nearly all mentioned "fit," or the ability to successfully interact with the consultant on the part of the staff, president, chancellor, executive director and board members, as a deciding factor.
Phil Mazzara added, "Once we determine scale/mission-fit, we frankly make a selection based on the 'goodness of fit' between the firm's folks actually doing the work and our CEO and CDO."
Lisa Moore summed it up nicely with the following:  "Finally, while experience and stats were important there was absolutely nothing more important than cultural understanding and fit. I interviewed three firms in person, two of which had not done their homework, did not understand my goals and priorities as a new leader, and presented as though my senior staff had never worked in development before. It was essential to me that the firm we would eventually choose truly believed in us, wanted us to succeed, and would be there with us during good times and bad."
Get our Guide to Selecting Fundraising Counsel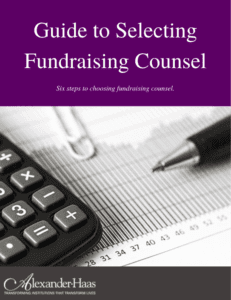 [/fusion_text][/fusion_builder_column][/fusion_builder_row][/fusion_builder_container]