In this age of instant everything, 24-7-365, life in the nano lane, it's good to be reminded that some things take time. When Suzy Booker, VP for Institutional Advancement at Maryville College, answered her phone one day last winter, she had no idea that it would be about a gift of a lifetime.
In 1940, an enterprising young man named Dan McGill, a native of Greenback, Tennessee, graduated from Maryville College with a degree in economics. A noted expert on pensions, insurance, and risk, McGill would go on to serve as counselor to the Federal Reserve Board of Governors and hold positions at UT Knoxville, UNC Chapel Hill, and the prestigious Wharton School, where he chaired the Insurance Department for 24 years.
Throughout it all—for seven decades—Dan McGill kept his ties to Maryville College, serving as a board member, as Board Chair, as Campaign Chair for the 2004 Vision Campaign, as a faithful alumnus and giver.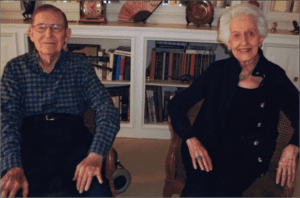 Dan and Elaine Kim McGill
He and his wife Elaine had established a Maryville scholarship in memory of their daughter Melanie and were members of the Society of 1819, the College's planned gift society. Dan passed away in 2013, Elaine in 2016. Just a few months after Elaine's death, Suzy Booker received a call from their advisor: The McGills had kept their promise, indeed making a bequest to benefit Maryville College.
The next sentence left her speechless. The McGills had bequeathed $15 million to the College.
In 2019, when Maryville College celebrates its 200th anniversary, the first Dan Mays McGill and Melanie Mays McGill Memorial Scholarships will be awarded.
A gift that was decades in the making will help Maryville begin its third century.
Sandra Kidd, Partner, and Alexander Haas are proud to continue to serve as fundraising counsel to Maryville College as it prepares for its Bicentennial in 2019. Maryville is the 12th oldest college in the South and is affiliated with the Presbyterian Church (USA). Set against the Great Smoky Mountains, Maryville will welcome more than 1,000 students to campus in August.
www.maryvillecollege.edu/news/2017/2619/mc-to-receive-largest-gift-in-history