Successful major gift solicitations, hiring a winning job candidate, and selecting the right fundraising counsel all have one thing in common:  a face-to-face meeting works best.
Before you get to this step, you must be done with your homework: talking with colleagues about their suggestions for good fundraising counsel, putting together an informal or formal RFP (request for proposal), and inviting firms to respond to your RFP.
Your goal is to have a real conversation with the final 2 or 3 firms under consideration, sitting down with the proposed consultant(s) for a good discussion.  You can make this time together most productive in several ways:
Invite a good mix of your staff and leadership to the meeting. When we see volunteers involved in selecting counsel, we have confidence that they will be engaged in fundraising, too.
Give us advance information about the meeting participants: what are their roles with your organization? We want to be well prepared to meet with your decision-makers, to use your time wisely and effectively.
Provide your group a brief outline of what you have asked us to cover in the discussion, so they can add their thoughts and questions beforehand or during the conversation.
Share with us what you will value most about having fundraising counsel. If you have worked successfully with fundraising consultants in the past, let us know what worked well.  If you know you have a critical need to meet—like developing your major donor base—let us know so we can talk about ways to make that happen.
Of course, you can't really get to know us or any other consultants in a one-hour meeting.  But if we do our job well, you will get a good sense of our approach, our experience, and, most importantly, how we will handle a situation.
If all your questions aren't answered in that one-hour, or you walk away with new questions, let's schedule a follow-up call to finish the conversation.
Get our Guide to Selecting Fundraising Counsel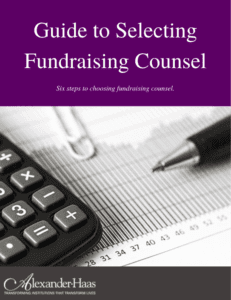 [/fusion_text][/fusion_builder_column][/fusion_builder_row][/fusion_builder_container]